Cannondale Topstone Carbon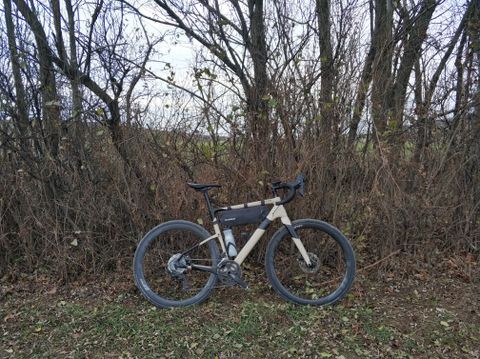 During the first Covid-19 lockdown in march 2020 I picked up my cycling routine again. Cycling and running were the only things you were allowed to do outdoors during those weeks. Running were out of question due problems with my knees. The most sporty bike I had at that time was my Fulmine Rosso which limited my riding to paved roads. Its ambitious gearing paired with my bad knees made it difficult to explore the hills around Vienna. When shops were allowed to open again, I headed almost immediately to Starbike where I was lucky to find a gravel bike — a concept that was rather new to me at that time — in my size for an acceptable price in stock. This was the Cannondale Topstone Carbon. I got the cheapest carbon model from the 2019 line up which sported a Shimano 105 drive train with 2 × 11 gears and hydraulic disc brakes, not so great wheels with WTB rims and Cannondale crankset, seatpost, stem and handlebar.
This was a lot of tech that I had never came in contact with before: Carbon frame and fork, hydraulic disk brakes, STI levers, tubeless tires, PressFit bottom bracket, thru-axles. Although a bit scary at first, that I suddenly ride a bike where I don't have an idea how to fix or replace all the components, I have to admit that it was a joy to ride. It gave me the ability to ride almost anywhere some path leads, it's gearing allowed me to climb the mightiest mountains one can find in and around Vienna (~300m altitude gain) and the brakes allowed me to descend with confidence. This is also the first new bike I have ever owned.
The frame has a suspension system in its rear, marketed as the Kingpin suspension system. It relies on a certain amount of flex in the seat and chain stays and in the upper rear end of the frame's main rectangle and a pivot connection between seat stays and seat tube. I cannot quantify how much this actually dampens, but descending on the cobble-stones roads of the Vienna Höhenstraße from Kahlenberg is not painful anymore. And that's something. Might also be a result of wider tires with lower pressure or the carbon frame when comparing to my experience on steel frames, but the suspension system will also provide its share to the bikes smooth feel.
For longer tours I equip it with various bike-packing bags. On my 2021 summer trip I was travelling with Vaude saddle and top-tube bags, Rockbros frame bag and a Zefal handlebar bag. In winter I mount a pair of SKS Speedrocker fenders. I use Crankbrother Eggbeater 2 pedals.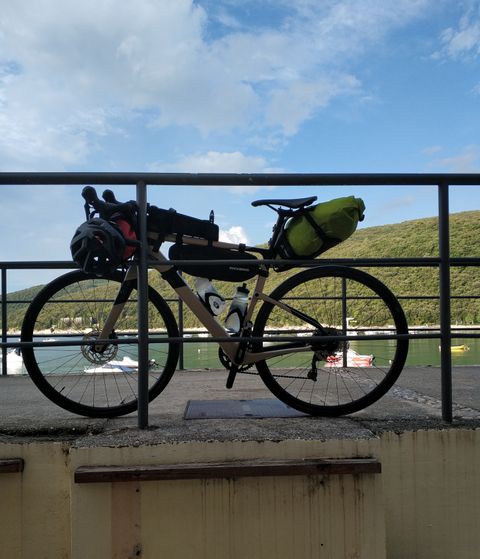 In autumn 2021 I replaced the stock wheels with a pair of Zipp 303s carbon wheels, which made climbing even easier. Their handling feels significantly more stable, accelerating is ridiculously effortless. Going around corners, where the WTBs sometimes became a bit wobbly, now feels like I'm riding on tracks. Also their deep rims look good on the Topstone's massive frame.
---
Feedback
If you have feedback, questions, or want to comment on this, please send me an e-mail or contact me through any other channel.
---